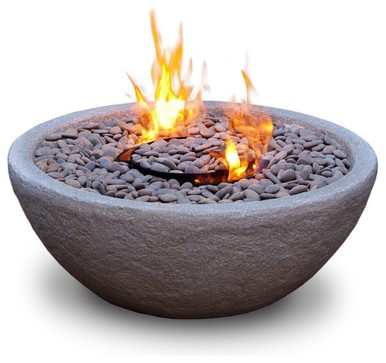 If you are an apartment or condo-dweller with only a small deck – or you have a wooden deck – or you only have room for a table and chairs – you can still enjoy the warmth and ambiance of an outdoor fire. There are a number of products at Home & Hearth Outfitters that are safe to place on a wooden surface, and can even be placed on a tabletop. The best part: many of these products are very affordable.
If your budget allows it and you have at least two feet of horizontal clearance available (and seven feet from any ceiling), the attractive, all-concrete Bola from Marquis is completely safe to place on top of a wooden deck. Available in your choice of textured black or smooth-surfaced gray, the Bola runs on propane or natural gas. You can use lava rocks, fireglass or decorative stone with the Bola, so there is some real versatility when it comes to enhancing your existing décor.  An optional matching cover is also available to protect the Bola when not in use.
If you are on a limited budget or have no room at all for anything other than an outdoor table, check out our tabletop fire pits from Apollo and Allure. These fire pits use a special ethanol-based gel fuel and include optional glass enclosures. Both of these Venturi flame technology, that causes the flame to twist, creating a different kind of ambiance. For those who prefer a more traditional look, the Apollo tabletop fire pits feature a classic, Mediterranean appearance, with your choice of stone or smooth surface. The Allure Sedona and Siver Vein models have a more contemporary appearance. All these table top firepits are completely safe to use indoor as well – offering a unique alternative to candlelight. Best of all, they are priced at under $200.
Check out our website under "Outdoor Living – Firepits" to see our complete inventory of tabletop and outdoor fire pits – or come visit our showroom in downtown Denver or Vail.